12.5% Cash Bonus on Americo Medicare Supplement Sales!
Earn Even More on Your Plan N Business
Produce at least $30,000 of annualized premium between March 1, 2022 and August 31, 2022. First premium payment for each qualifying policy must be applied during the qualification period and 70% of applications must be underwritten. Bonus payments will be based on the following:
When you write $30,000 and Above You'll recieve:
a 15% Bonus on Plan N
a 12.5% Bonus on all other Plans
Click the Flyer Below for Complete Details!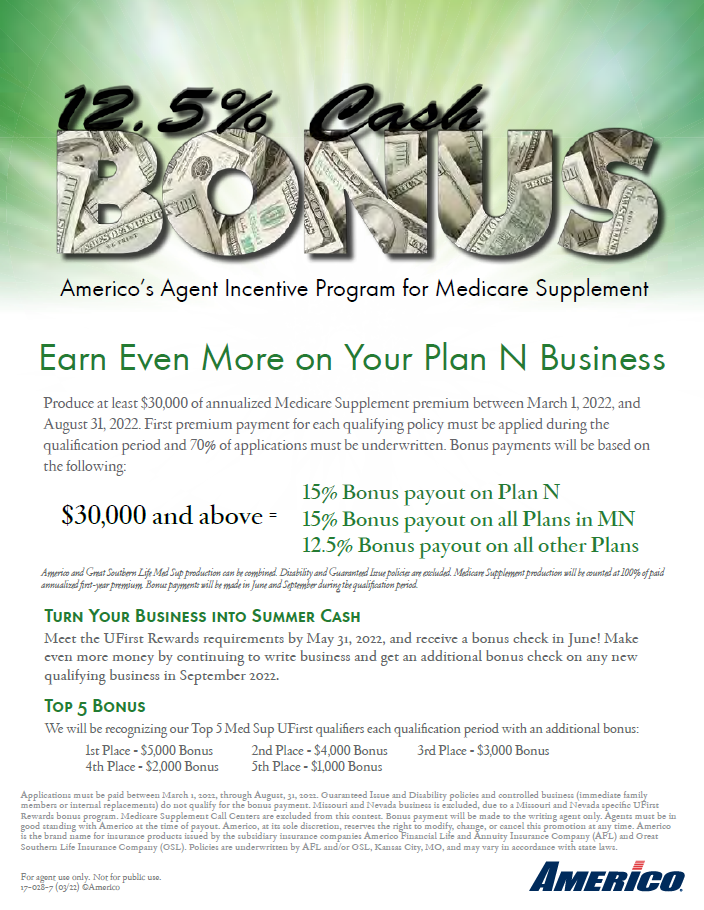 Turn Your Business into Summer Cash
You don't have to wait to get paid! Meet the UFirst Rewards requirements by May 31, 2022 and receive a bonus check in June! Earn an additional bonus check at the end of the qualification period when you continue to write qualifying business. There's no limit on how much you can earn!
Contract With Heartland National
Complete your contracting today with our online Express Contracting! – Click Here – to get started!
---
Contact Senior Benefit Services, Inc.